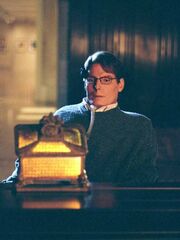 The first episode of Smallville: Swann.
Differences
Edit
Differences from Smallville
Edit
Virgil Swann reveals himself as Jor-El, having barely survived Krypton's explosion when Lara got him through the portal after becoming paralyzed, giving up her own life in the process.
Swann also reveals how Krypton was destroyed by a war with Zod.
Dr. Swann also meets the Kents and explains about the Stones of Power.
Characters
Edit
Main Characters
Edit